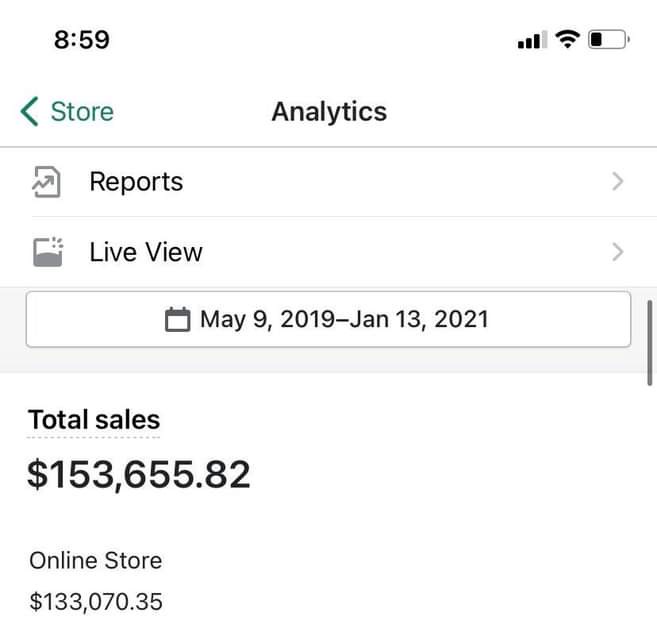 Hello everyone! I started dropshipping back in 2018, was a completely beginner. Made a few hundred dollars then stopped it.
Started again in 2019 will full swing, scaled the store after August for Q4 made 100K in sales then COVID came and disrupted everything.
Stopped and started again in 2020, made 50K so far. I was not a member of BHW but I learnt a lot from here so I am thinking of giving back. I can answer questions on anything (products, ads, suppliers, scaling) I'm not selling anything but just trying to help.
Absolutely, it is! Just dive in and you will learn. It's easy. I would say keep atleast 1500USD in hand to start. If you are a beginner.
大家好!我從2018年開始進行直銷,是一個完全初學者。賺了幾百美元,然後停止了它。.
在2019年再次開始將如火如荼地進行,在八月之後第四季度擴大商店規模,取得10萬的銷售額,然後COVID出現並破壞了一切。
停止並於2020年重新開始,到目前為止已達到50K。我不是BHW的成員,但我從這裡學到了很多東西,因此我想回饋。我可以回答有關任何問題(產品,廣告,供應商,擴展規模)的問題。我什麼也不賣,而只是在尋求幫助。
建議初學者最先以1500美金作為開始的投入資金
There are many ways, my favourite is competitor research, just research and see what's selling and replicate, see what they are not doing (for example if they are not targeting a country in ads, or maybe the customers are not happy) understand the pain point and do better.
有很多方法,我最喜歡的是競爭對手研究,研究並查看他們正在銷售和再製造的商品內容,查找出看他們沒有做的事情(例如,如果他們未將廣告定位到某個國家/地區,或者客戶不滿意的地方),就會了解到這種痛苦點,並嘗試做得更好
I have been doing FB ads from a long time so I started with 300$ since I knew what I am gonna do.
Roughly 1500 if you are a beginner, if you have any experience in ads than 700-1000
Yes you will if you work hard and stay focused
很長一段時間以來我一直在做FB廣告,這有40%的利潤,所以我以300美元開始,因為我知道自己要做什麼。
I saw the ROI from the third day. You have to understand how things work. Let's say you are running ads of 15$ per day (3 ads of 5$ each) and you sell a product for 49.99 and considering everything is good you sell a product. You get 49.99 from that you pay 15$ to ads, and 5$ to the supplier. You will still have some money left. But now you know what doesn't work. So you kill those 2 adsets which are not making sales and scale (increase the price of this to 15$). The point is you have to start slow, you can't be like spending 100$ from the day one. That's what a lot of beginners do. You have to go slow, understand the data.
What do I mean by understand the data?
Lets see you are running ads and you are getting clicks but they are not buying the product, so you troubleshoot the problem, change the theme maybe. Or go through the flow as a customer. These things you can only do when you run ads with a small budget, because let's say you spent $100 and things doesn't work your 100$ will be gone. So the rule number one is start slow and understand the data.
As far as mentor is considered, yes 900-1000 is a fair price I would charge the same. But you have to have a deal, maybe have a proper contract and discuss what is he gonna offer. Because the thing is it's very easy to fool beginners, so choose someone whom you trust.
我從第三天開始就看到了投資回報率。您必須了解事情的運作方式。假設您每天投放15美元的廣告(3個廣告,每個5美元),並且您以49.99的價格出售產品,並且考慮到一切都很好,則您出售產品。您從廣告中支付15美元,向供應商支付5美元,得到49.99美元。您仍然會剩下一些錢。但是現在您知道什麼不起作用了。因此,您刪除了這兩個沒有進行銷售和擴展的廣告集(將其價格提高到15 $)。關鍵是您在一開始必須慢慢來,不能從第一天開始就投入100美元做廣告投入。這是很多初學者要做的。您必須開始前慢一點,了解數據後再行動。
了解數據是什麼意思?
讓我們看看您正在投放廣告,並且獲得了點擊,但他們沒有購買產品,因此您可以對問題進行排查,或者更改主題。或以客戶的身份經歷流程。這些事情只有在您以較小的預算投放廣告時才能執行,因為假設您花費了100美元,而事情不起作用,您的100美元就會消失。因此,第一條規則是啟動緩慢並了解數據。
Product research is a very broad topic but you can use Aliexpress to check the best selling products in a niche. My personal favourite is women's cosmetics, I don't intend to sell apparel because of the sizing issue. Just sell cosmetics, bracelets, or if you wanna sell electronics than sell those cute moonlight lamps,Valentines is here so I would have sold Relationship Styled moonlight lamp and targeted couples..

Competitor research is also easy just go to https://myip.ms/browse/sites/1/own/376714 explore the stores from 50-100 see if you find anything, look it up to Aliexpress and stalk their Facebook page see if they are running ads for their product and if they are just see if people are still interested in that (commenting or not or engaging or not) you can also use the ad library by Facebook to check. And just replicate the store.
產品研究是一個非常廣泛的主題,但是您可以使用Aliexpress來檢查利基市場中最暢銷的產品。
我個人最喜歡的是女性化妝品,由於尺寸問題,我不打算出售服裝。只是賣化妝品,手鐲,或者如果您想賣電子產品而不是賣那些可愛的月光燈,那麼瓦倫蒂娜就在這裡,所以我會賣給Relationship Styled月光燈和有針對性的情侶。

競爭對手的研究也很容易,只需轉到https://myip.ms/browse/sites/1/own/376714
即可從50-100家商店探索商店,看看是否找到任何東西,然後查詢Aliexpress並跟踪他們的Facebook頁面,看看是否他們正在為其產品投放廣告,如果他們只是查看人們是否仍然對此感興趣(評論或不評論,是否參與),您還可以使用Facebook的廣告庫進行檢查。並複製商店。
How do you manage faster delivery and private labeling?
If the product does better I get a warehouse in US (online through ShipBob), and I ship in a day, so it reaches them in 3 days maximum (US domestic).
Private labelling — my supplier does that for me, he is in direct contact with the manufacturer and negotiates on my behalf.
如果產品效果更好,我可以在美國建立倉庫(通過ShipBob在線),而且我一天之內就可以發貨,因此最多可以在3天之內到達(美國國內)。
私人標籤-我的供應商為我做到了,他與製造商直接聯繫並代表我進行談判。
what tool do you use for product research
I don't use a tool, because let's say you use tool XYZ and you find a product, don't forget that you are not the only one which may have found it. So it increases the competition, better stick to manual methods for research. I have shared some info above, check.
我不使用任何工具,因為假設您使用了XYZ工具並找到了產品,請不要忘記您不是唯一找到它的人。因此它增加了競爭,更好地堅持了手工研究方法。